Shaq is a true business mogul.
The NBA legend had a very lucrative playing career, earning a total of $300 million during his basketball tenure. Unlike the 60% of NBA players that have struggled to maintain their wealth and eventually went broke 5 years after retirement, Shaq makes more money now than he ever did playing ball.
Currently, Shaquille O'Neal earns well more than his previous $30 million NBA salary. This is because Shaq chose to spend his earnings wisely by investing in multiple restaurants, innovative technology, and a number of well-paid endorsements.
Unlike the 60% of NBA players that reportedly go broke five years after retirement, Shaq has made all the right financial moves since hanging it up.
Let's look at some of his most profitable investments.

Papa Johns
Shaq hit a nice deal with Papa Johns.
In addition to investing in 9 stores in the Atlanta area, Shaq will also be a Papa Johns' brand ambassador and earn $8.25 for 3-years in endorsements.
The big fella might even toss a few pizza's for fun.
Auntie Anne's
Included in Shaq's impressive franchise portfolio is 17 Auntie Anne's.
He owns 8 in Buffalo NY, and 9 in multiple areas in Michigan.
24-Hour Fitness
The big man has a diverse portfolio, fast food isn't his only interest.
Shaq owns 40 gyms. Convenient and healthy, what's not to love?

CityPlex12
Shaq bought the movie theater in his hometown of Newark, NJ in 2012.
Since the purchase, Shaq has made major renovations and business has never been better.
A sentimental investment that paid off well.
Met 3
This is one of the tallest building in the country, located in Miami, FL.
This residential high-rise towers to 866 feet tall.

Car Washes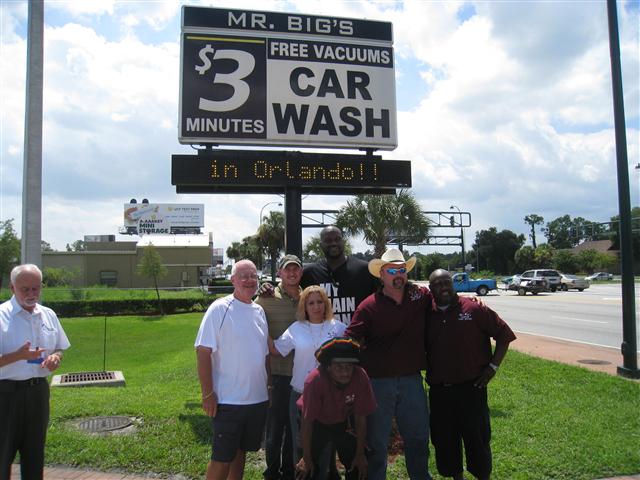 Shaq collects these.
Today, he owns 150 car washes. This is an extremely profitable business. Thus, car washes are a go-to for many new investors.
Pre-IPO Google Stock
A surprising investment for people who don't know Shaq.
The story is priceless.
When Shaq first arrived to LA in the late 90's, he checked in to the Four Season Hotel and started baby sitting a kid in the lobby who was waiting for his dad to finish a business meeting.
Shaq tells the whole story on the Ellen Degeneres Show:
"I'm actually babysitting the guy's kids while he's in a meeting," O'Neal says. "So after the meeting, he says, 'You know what? You're good with kids, I like you, I'm going to bring you in on this investment.' And it was called Google. He said, 'You know, in the future, you're going to be able to type on your phone, search engine this, do this, boom, boom, boom, you should invest.'"
Shaq invested in 2004 when Google IPO'd at $75, now they are worth nearly $1200 a share.
While it's unclear how much stock Shaq initially bought, he added that he had a big return.
Five Guys
Shaq went all in on five guys.
At one time, Shaq owned 155 restaurants, which is equivalent to 10% of the company's complete portfolio.
Diesel told CNBC that the burger business was good to him, and he wasn't talking about the perks of free food.
Shaq prides himself on only investing in businesses and services that he likes, five guys being one of his favorite companies.

Sacramento Kings
You probably didn't know this, but Shaq has some stake in the Kings.
Many never knew about this because he stays relatively quiet about this investment now that he's an NBA TV Analyst.
Shaq owned the Kings during his playing career, so it's only fitting he finally put it on paper.

Honorable Endorsement Mentions
Carnival Cruises, Icy Hot, Buick, Gold Bond, Arizona, Zales, and Fruity Pebbles.
Join the Discussion